Our Vision
To become a landmark church for families in the Loma Vista community providing hope, comfort and the gospel for all members of the family.
Our Plan
We need to do three things:
1) Finish the construction of our Ministry Center
2) Provide necessary furnishings and equipment to run our ministries
3) To cover our mortgage payments for the final year (Apr '20 – Mar '21) of our VISION 9905 Campaign.
To accomplish this we need to finish raising our target goal of $550,000. As of March 2020, we've raised $284,428, or 52% of our goal.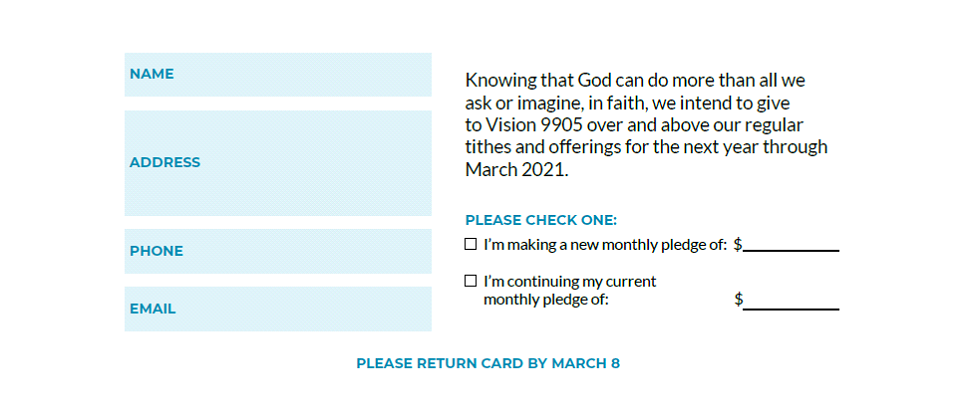 Pledge Card
We are asking that you fill out a new 'Pledge Card' for the second half of the campaign, choosing one of two options: Option #1: "I'm making a new monthly pledge of …" or Option #2: "I'm continuing my monthly pledge of…"
In the summer of 1995 a group of 50 adults and 30 kids gathered at Bicentennial Park to discuss the possibility of starting a church in the east clovis area. The leaders shared a simple vision of a church that would be Christ-Centered, relationally based, and community oriented. Since our inception those three elements have served as a foundation for everything we do. Since our beginning we've been a portable, largely invisible church. The next part of our journey begins now. What is Vision 9905? To establish a permanent presence conducive to the architecture and style of our community, on a very visible street corner within the Loma Vista area expanding its programs and serving hundreds of families in our community.
Our faith journey to reach our permanent destination 9905 E Shaw Ave
City of Clovis Loma Vista General Plan
When we first planted our church in the 1990's we envisioned setting down our roots on the East side of Clovis along the Shaw cooridor. In 2004, we purchased 25 acres at Shaw and McCall, taking the first significant step towards seeing God's plans come true!
Since then, the City of Clovis has included our church into the Loma Vista General Plan. Click below and discover how the City plans on developing the area around our church:
Save the Date!!
Open House & Dedication Dinner – Saturday, May 31st
Join us on the eve of our inaugural services as we walk through our new building, celebrate a ribbon cutting ceremony, dedicate our time capsule, flag pole and rock memorial, and enjoy a wonderful dinner!
Inaugural Services – Sunday, June 7th 
This is our "soft opening" as we hold our very first Sunday worship services in our new building!
Prayer Walk – Saturday, July 18th
Join us as we walk our property praying for those that God wants to bring to our church.  We will also distribute flyers in the neighborhoods surrounding our Ministry Center.
Grand Opening – Sunday, July 19th
This will be our first outreach services inviting the entire community!  We'll have guest speakers, testimonies, and special treats for all who attend.